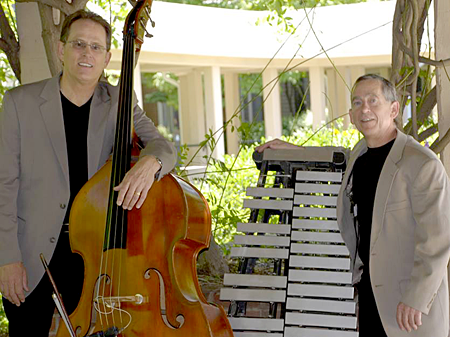 Music By Anthem presents a house concert with
The Not-Your-Usual Jazz Trio
Friday, April 11th
Greenbelt, MD
Doors open at 7:30pm, music at 8:00
Suggested donation: $20
The Not-Your-Usual Jazz Trio features noted jazz performer Perry Conticchio playing flute, clarinet, soprano and tenor saxes, master percussionist and drummer Pete Chauvette on vibraphone and versatile bassist Dan Hall playing upright bass. No piano, guitar or drums! (You won't miss them)
This combination of instruments in the capable hands of these performers makes for an intimate jazz listening experience not unlike a fine chamber music concert. The delicious tonal characteristics lend themselves to the close quarters of a house concert and afford the listener an opportunity to truly feel the music at a comfortable volume level. Come join us and give your ears a well deserved break from the day to day hubbub. In addition to the unique instrumentation you'll also get to enjoy a not-your-usual selection of tunes.
Please RSVP to chelle@musicbyanthem.com or 301-366-5579 to reserve seats (space is limited!) and for specific address.
Light refreshments will be served; feel free to BYO beverage/snack.
The Incredibow's "everlasting" synthetic hair, warranted for three years' minimum, is impervious to humidity!

Bows available in a wide range of colors and finishes, and in weighted and "featherweight" versions.